The Digital Preservation Coalition (DPC) has donated its prize of €500, received for the Best Poster at iPRES2019 to the International Council on Archives' (ICA) Fund for the International Development of Archives (FIDA).
The DPC received the Jury's award for Best Poster for their representation of the Executive Guide on Digital Preservation, a resource which provides practitioners with a combination of generic and specific messages and motivators designed to communicate with senior executives with a view to embedding the value of digital preservation at the core of every organization.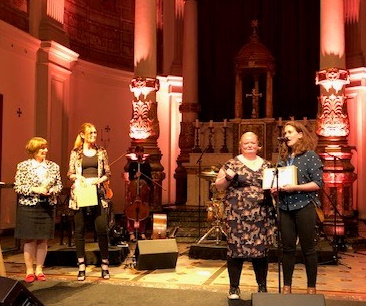 Clear Design, Quality & Creativity
Sponsored by Data and Archiving Networked Services (DANS) and presented by their Deputy Director, Ingrid Dillo, the award recognized the clear design, quality and creativity of the poster, as well as its supporting video.
A Broader Community
"The Executive Guide on Digital Preservation was written by DPC members for the whole of the digital preservation community," explains Sarah Middleton, Head of Advocacy and Community Engagement for the DPC. "Therefore, we wanted the prize to benefit the broader community too!"
Aims of iPRES
"Donating to the ICA's FIDA fund is a wonderful idea and perfectly connected with the aims of iPRES in supporting under-represented regions of the world," says Marcel Ras, Organizing & Program Chair for iPRES 2019. "We are very pleased that the prize will go on to help archives in developing countries."
More Funds? More Actions!
Chair of FIDA, Fred van Kan was delighted with the donation, adding: "We feel very honoured that this prize has been donated to FIDA. With donations like this we can do a lot! In October the FIDA trustees will decide how to allocate our funds for 2020, and thanks to the Digital Preservation Coalition this year we can do a bit more!"
About FIDA
The ICA's Fund for the International Development of Archives (FIDA) provides assistance to archive professionals and institutions working in especially challenging conditions, usually in developing countries. Its role is to help them to help themselves, by providing support to develop archivists in specific skills which can then be disseminated to others, rather than developing products of more general archival use or for longer-term professional programmes.