Welcome to the iPRES 2019 WhyPres series: testimonials and reflection from members of the digital preservation community regarding their iPRES participation. This blog was written for you by John Pelan, Director of the Scottish Council on Archives.

iPRES 2019 will be my first iPRES conference and I am really looking forward to it and very grateful to the Digital Preservation Coalition for offering me a scholarship to support my attendance.  For me, the key thing will not to be overwhelmed by the sheer number and variety of topics and themes in this year's programme, and that's even before I get there! With a conference of this size and complexity, knowing what to expect and what one hopes to get out of it in advance is really important.   
Exploring iPRES 2019 
As director of a small advocacy and development organisation for the Scottish archives and records management sector, I am only too aware of the increasing significance and impact of digital preservation, not just to professionals but to users and society in general.   The digital environment, which all of us now interact with and rely on, has become almost as important to our wellbeing, in both positive and negative terms, as the natural and built environments. How will we manage it? What are the big challenges and opportunities? What we should we preserve and/or share, and for how long?  What will the archive, and the archivist of the future, look like? These are just some of the issues I hope to learn about, discuss and explore at iPRES 2019.
New Horizons
I am looking forward to taking full advantage of the networking, collaboration and capacity-building elements of the conference programme.  It will be amazing to meet with and hear from professionals and experts from around the world from a wide range of backgrounds and sectors. Sessions that have caught my eye include:  New Horizons/Research Data; Collaboration – Setting Up Open Access Repositories; Cutting Edge/Emerging Formats; Capacity Building – Digital preservation in French Archive Services/ Building Network Capacity Among Memory Institutions; and Cutting Edge – People and Process of Digital Preservation.  
Improving Access to Archives
My organisation, the Scottish Council on Archives is developing a new portal, in partnership with Jisc/Archive Hub, which will aggregate data from collections around the country, improving access to archives in local authorities, universities and businesses.   I am particularly interested in exploring the potential for supporting and developing community archives particularly in areas such as digital preservation, data cataloguing, access; and new technologies. The conference sessions on 'Addressing Paper Minds'; 'Building a User Group; Measuring Success; and Sustainability look fascinating.
Challenges & Opportunities
The conference will also provide me with a greater understanding of the challenges and opportunities around digital preservation and will inform my organisation's programme of activity.  Also, as a relative newcomer to the archives and records management sector, I see this conference as broadening my horizons and developing and improving knowledge of digital preservation and related issues. 
Eye on the Horizon
Finally, I have seen the future, and it sits on the end of my nose.  Virtual Reality offers incredible potential for opening up archives to a huge audience and I am intrigued by the talk, Supporting Virtual Reality and 3D in Academic Libraries.
See you in Amsterdam!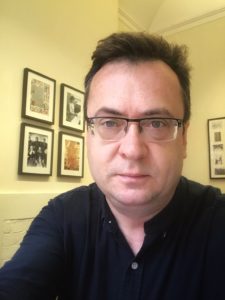 John Pelan
Director of the Scottish Council on Archives and First Time Attendee at iPRES 2019.