Welcome to the iPRES 2019 WhyPres series: testimonials and reflection from members of the digital preservation community regarding their iPRES participation. This blog was written for you by Barbara Sierman, Digital Preservation Manager for the National Library of the Netherlands.
Göttingen 2005 was my first iPRES conference. I started that year at the KB National Library of the Netherlands as Digital Preservation Officer. Digital Preservation was a new and intriguing domain for me. From the moment I applied for the job I started reading all available literature (less overwhelming in those days). Göttingen was the moment when the names of the authors turned into real people, with whom you could laugh, have dinner, sit in the sun and discuss DP topics in the meantime. As DP was and, in many cases, still is a topic that needs a lot of persistence and persuasion. At iPRES you are amongst people struggling with the same problems and challenges.  IPRES 2005 was the start of my international DP network.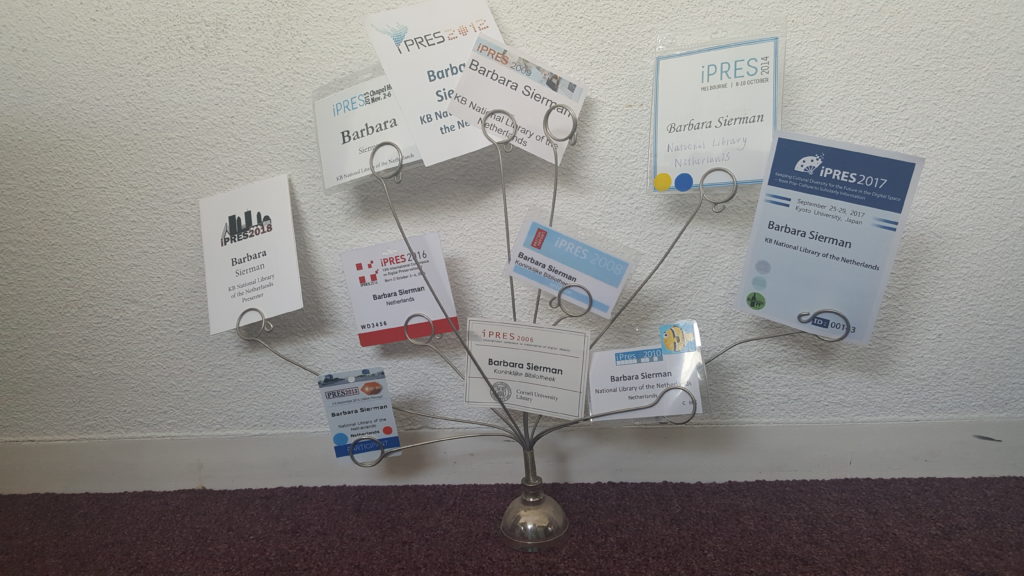 12 x iPRES and a Cherry on the Cake
After Göttingen I attended almost all next iPRES conferences, except for Beijing and Singapore. 12 Conferences in total. The iPRES conferences offer many ways of contributing: papers, panels, minute madness, workshops, reviewing, program committee participating and finally this year being part of the Program and Organizing Committee (the cherry on the cake! – organizing it in my home town Amsterdam). Over the years I tried them all. To discuss and to spread the word about new insights and results of national and European projects like Planets, SCAPE and APARSEN and OAIS.
Friendly Critics
The DP community is a friendly community, but also a critical audience. You will think twice before you submit something. This is stimulating and also a bit scary. But the conference is also a place for magic moments: new initiatives and achievements that are presented, adaptation of an old idea that turned into a success, early insights that proved to be right after several years. At those moments you realize that improvements of DP go step by step. That it is important to look back and include the wisdom of previous projects when starting a new initiative. That despite technological innovations, core concepts might still be right.  
Preserving Valuable Knowledge
Over the years I've seen people disappearing from the DP stage. People who contributed to DP in the past and whose knowledge and insights are still valuable.  Sometimes they found another job in another domain. Others retired and have no longer a sponsor or affiliation, who will send them to the iPRES conferences. While asked for, their reflections can still offer interesting points of view, is my experience. 
Let's Reverse Brain Drain
As author you are obliged to present your paper live at the conference. However, the combination of the "(retirement) brain drain" and the problem of climate change might be a motivation to reconsider this, f.i. by allowing video presentations. Perhaps an iPRES DP Alumni initiative can be started to prevent the brain drain and to offer these people an opportunity to sustain the iPRES network and still contribute to the improvement of Digital Preservation.
Barbara Sierman is Digital Preservation Manager for the National Library of the Netherlands and Vice-Chair for iPRES 2019.