Welcome to the iPRES 2019 WhyPres series: testimonials and reflection from members of the digital preservation community regarding their iPRES participation. This blog was written for you by Jaana Pinnick of the British Geological Survey and National Geoscience Data Centre.

The background for my attending iPRES 2019 is that I am developing a digital preservation programme for the British Geological Survey (BGS) and its associated National Geoscience Data Centre (NGDC), for which curating research data and making it openly available is its very reason d'être.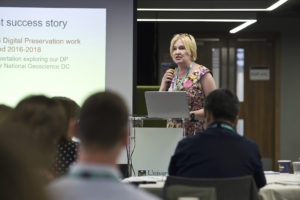 Where is the R?
Data preservation is a key part of our operations, but traditionally most data was deposited with us in physical formats (core, rocks, paper, maps etc). Needless to say that has changed fundamentally over the last couple of decades and, just like everyone else, we've had to accommodate to the influx of larger volumes of digital data being offered to us for long-term storage. The emphasis has traditionally been on data acquisition and delivery (the F, A and I of FAIR data) but we have recognised the need to focus also on the reusability aspect, thus strengthening the remaining R. 
Work Smarter Not More
Our strategy is to work smarter not more. My training in information and records management topped up with additional modules on digital preservation has been enough to get me started in research data management and digital preservation, but with both of these specialisms still developing fast, I want to take every opportunity I can to learn more. I acknowledge the importance of networking and learning from my peers as well as the importance of outreach and communication both internally and externally. I want our organisation to invest time and effort in change management to ensure digital preservation is not a project-based initiative but instead a key part of the way we work each day across the organisation. We are prioritising both our resources and data assets in need of preservation, and want to use existing skills e.g. records management, research data management, information technologies where possible, and realign these to our research priorities. 
Learning & Sharing at iPRES 2019
The main points for me at iPRES are getting to know more experienced digital preservation professionals and familiarising myself with some more technical work taking place at other organisations in the public sector, and particularly in institutions dealing with research data. I also want to learn about the latest research and development in the field, including the use of tools I can apply in our work e.g. for capturing preservation metadata/PREMIS and integrating it in our Oracle relational database, generating checksums and running fixity checks, and deciding when doing that is essential in the face of our expanding data holdings. I have used DROID on some of our data but finding out about scalability is important as we do not currently have a team of digital preservationists. At BGS we are taking the research data lifecycle seriously from data generation to preservation and then subsequent reuse. We have created a research data management training course for early career researchers associated with BGS with the aim to help them generate more robust geoscience data in the longer term, and I'm looking forward to sharing our work with delegates at iPRES 2019. 
Après iPRES
An ideal outcome from attending the conference would be for me to find ideas that I can implement in our organisation, in particular to do with preservation planning, digital sustainability, enhancing our data management functionality, building skills and capacity at the repository using existing resources where possible, and supporting digital transformation across the organisation. Perhaps I might find out more about what is being done with regard to IPR and legal issues relating to digital preservation and follow up any leads to collaborate with digital preservationists in the UK and other countries. I am also looking forward to visiting DANS as the main research data institute in the Netherlands. And finally, see a little bit of Amsterdam of course!
Jaana Pinnick is Research Data and Digital Preservation Manager for the British Geological Survey and National Geoscience Data Centre.