Welcome to the iPRES 2019 WhyPres series: testimonials and reflection from members of the digital preservation community regarding their iPRES participation. This blog was written for you by Jaye Weatherburn, Data Stewardship Coordinator at the University of Melbourne. 
"I feel very privileged to have three notches on my iPRES belt: Bern (2016), Kyoto (2017), and Boston (2018) – thus completing one full iPRES conference-zone hop around the globe: Europe to Australasia to the Americas.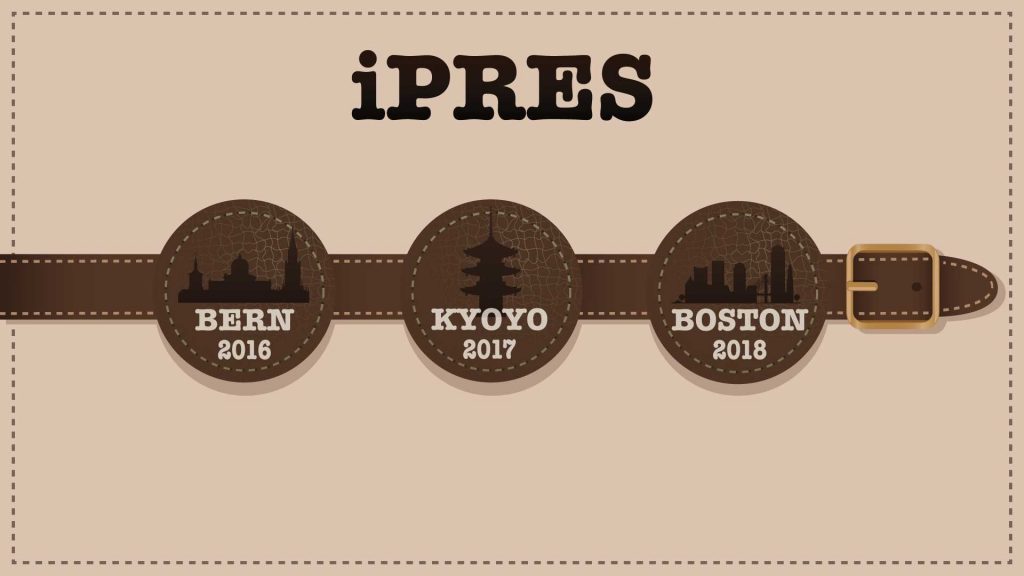 Bern, iPRES 2016
When I reflect on my iPRES conference experiences, three interrelated elements are in play: people, connections, and opportunity. At the time of Bern's iPRES2016, I was new to the digital preservation field, sharing a poster presentation of the University of Melbourne's ten-year digital preservation strategy and attending as many conference sessions as possible (while trying not to embarrass myself with overexpression of awe at sightings of various digital preservation superstars). After contributing 12-odd years of my life to a very different career, I was grateful for the many digital preservation colleagues who willingly offered me their time and made me feel that my contributions to the field were welcomed.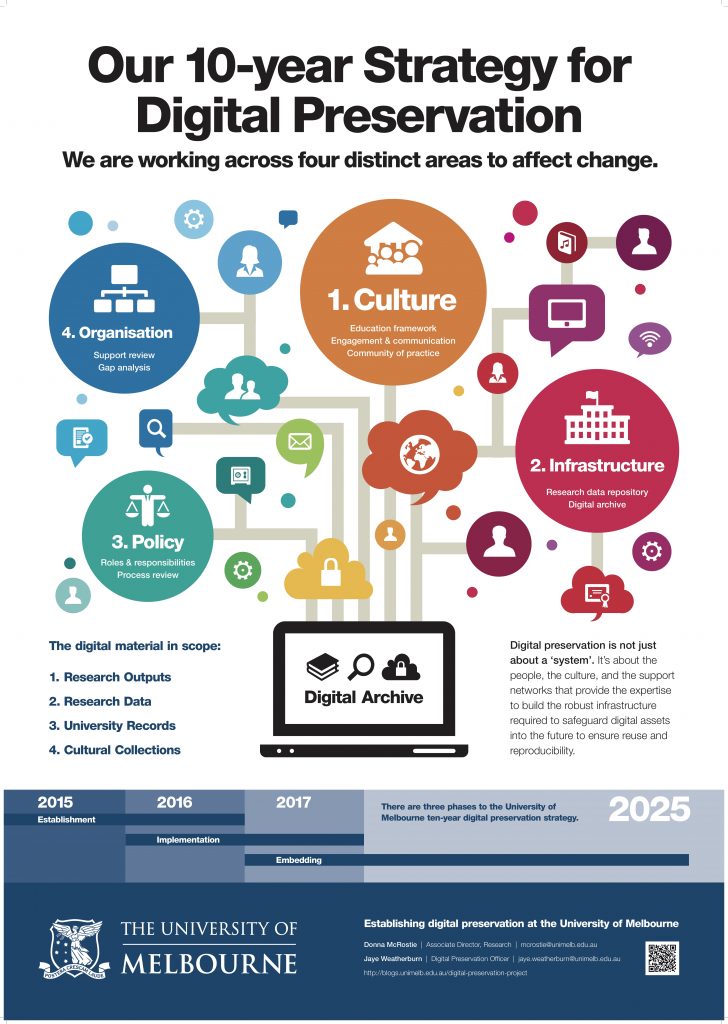 I attended valuable sessions on stewardship that directly contributed to my work at the University of Melbourne – notably "Will Today's Data Be Here Tomorrow? Measuring the Stewardship Gap" and "What Makes a Digital Steward: A Competency Profile Based on the National Digital Stewardship Residencies". Also particularly of note was the model for a National Approach to Digital Preservation in the Netherlands (with a workshop also presented the following year at iPRES 2017 focusing on practical implementations of the model for a network of distributed facilities). I still find the Dutch approach an impressive piece of work, one that I consider to be a potential starting point for any national investigations of how digital preservation services could evolve. iPRES excels at providing a forum for high-level thinking on the future of digital stewardship and preservation for the benefit of many different people and organisations.
Kyoto, iPRES 2017
By 2017 the University of Melbourne's digital preservation project was in full swing, and the university invested in membership of the Digital Preservation Coalition. We were thus eligible to apply for a DPC Leadership Programme scholarship, which I was delighted to be awarded. The scholarship enabled me to attend iPRES2017 in Kyoto, where I experienced the enthusiasm and drive of the DPC team and all they seek to achieve on behalf of the digital preservation community. I was able to attend valuable sessions on preservation storage and acquisition and appraisal. I discovered Lauren Work and Heidi Kelly's "Documentation to the People: Building Empathy into Technical Documentation for Digital Archiving" – their case "that by creating documentation that is underpinned by empathy for ourselves, our users, and those in our archives, we will improve our community, our tools and software, and our practices" is one that resonates strongly for me.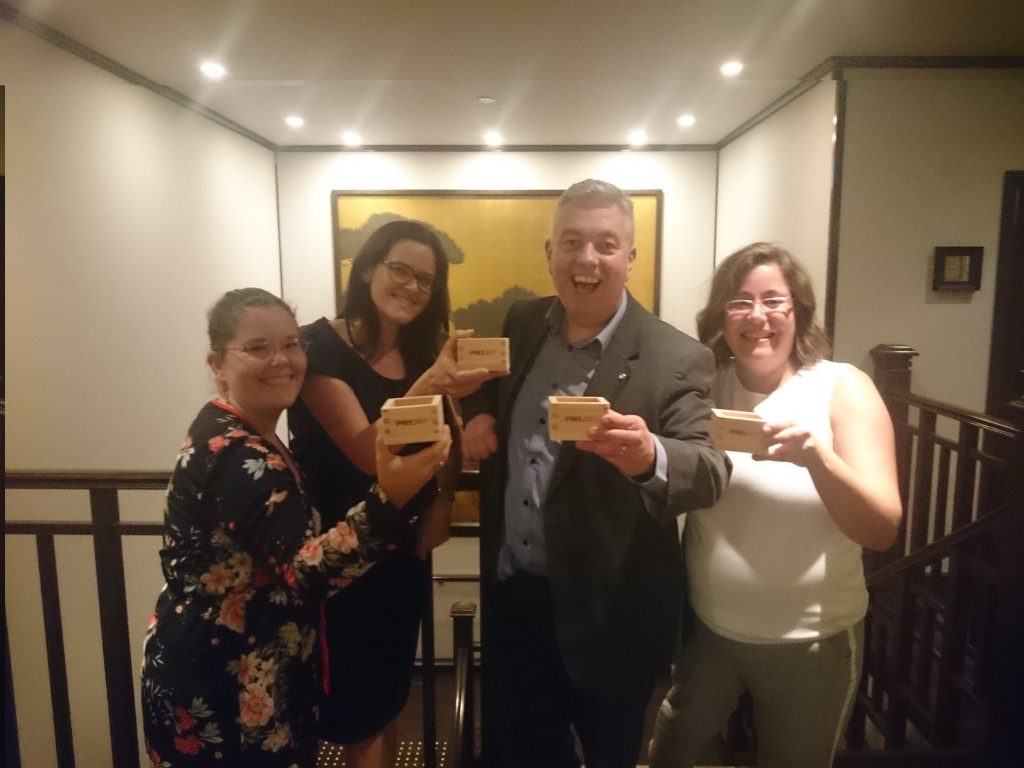 Boston, iPRES 2018
For iPRES2018 in Boston, my iPRES experience changed again following an invitation from Nancy McGovern to join the organising team. Working behind the scenes of a conference is both challenging and rewarding, particularly in terms of the innovations that the team generated in 2018: the first code of conduct, ad hoc sessions (lighting talks, digital preservation graphics), the game room sessions, and digital-only posters.
iPRES is the best (educational) excuse for a shindig I've had the pleasure of experiencing in my professional career. I look forward to it every year, particularly as it enables me to extend and strengthen my connections in the digital preservation field. I've gotten a better handle on who likes gin, who likes beer, and who likes tea (these things are important). I think that iPRES2019 in Amsterdam is the next great opportunity to be energised by the passion and dedication that digital preservation people bring to the grand challenges of curating and preserving the earthly record in all its bits and pieces."
Jaye Weatherburn, The University of Melbourne
In my role as Data Stewardship Coordinator, I am part of a team who are developing and embedding holistic data stewardship capabilities for the research community at the University of Melbourne. My role is also responsible for driving project work for the implementation of the university's ten-year strategy for digital preservationa and the subsequent development of the emerging business-as-usual program for digital preservation activities. In my spare time I help to organise and run the Australasia Preserves digital preservation community of practice for the Australasian region.
This blog was also published in the iPRES April Newsletter. Subscribe now and we'll keep you updated on everything to do with iPRES 2019.